Request Appointment
Get Directions
What is a Dental Implant?
Dental implants are the most durable and functional tooth replacement option available today. The implant is compromised of a titanium post that serves as the root of your replacement tooth, a porcelain crown, and an abutment that attaches the crown to the implant. With proper oral care, a dental implant can replace a natural tooth for a lifetime.
Benefits of Dental Implants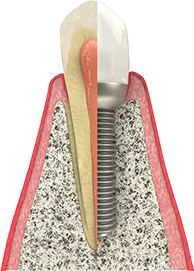 There are numerous reasons why dental implants are superior to all other forms of tooth replacement.
Convenience- Once the implant is placed, it serves all the functions of a natural tooth. No eating restrictions or speaking impediments.
Oral Health- With other tooth replacement options, the bone where the root used to be may deteriorate over time, causing neighboring teeth to shift to loosen. Implants are the only option the helps prevent bone loss in the jawline.
Reliability- Implant placement surgery is one of the most effective types of surgery with a success rate of over 95%.
Confidence- Implants are nearly indistinguishable from natural teeth. Smile more often with a full, healthy set of teeth.
Dr. Kolozenski utilizes his 3-D imaging and dental implant planning software to ensure the most accurate and predictable surgery. Once the dental implant has been placed, the abutment and crown will be attached by your general or restoring dentist during the restoration phase.
If you are anxious or have any questions regarding any stage of the dental implant procedure, the team at MK Periodontics and Implants is always ready and willing to answer any questions or concerns you may have.