Request Appointment
Get Directions
What is a Bone Graft?
Bone grafting is a surgical procedure that is used to encourage the body to re-build bone that has been lost as a result of periodontal disease or a missing tooth. It is very important to have sufficient bone support around every tooth or replacement teeth because they depend on the integrity of the bone to keep from shifting. When a tooth is lost, the bone surrounding the tooth, which no longer serves the function of holding the root, begins to erode until it creates a hollow cavity or sunken in look. Once significant bone loss has occurred, a patient will need a bone graft before any replacement teeth can be placed and before further deterioration causes damage to neighboring teeth.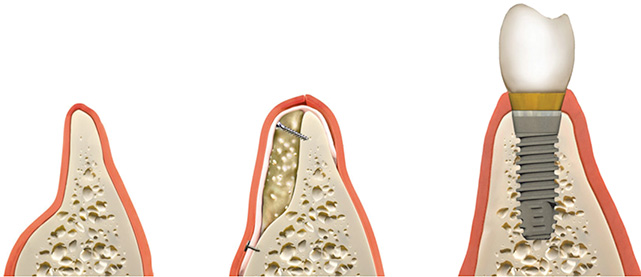 Is Bone Grafting Safe?
If bone grafting is completed by a highly trained periodontist like Dr. Kolozenski, the surgery is safe and reliable. Dr. Kolozenski ensures that all grafting materials are completely sterile and come from a reputable national tissue bank that follows strict regulations and guidelines as set by the U.S. Food and Drug Administration. The donor material that Dr. Kolozenski uses has been used in both dentistry and medicine, specifically orthopedics, for many years and is dependable!